Nurika Manan/Project Multatuli (The Jakarta Post)

Bojonegoro   ●  
Mon, December 20, 2021

2021-12-20
11:50
72
1a1b11401ea1df534c761499890394f8
1
Community
tobacco,tobacco-industry,tobacco-control,tobacco-farmers,farm,farmers,farming
Free

For two consecutive years, Siyamin's tobacco harvests failed to bring in enough revenue to cover his costs. So, he decided he had to make a change.
The tobacco farmer began growing corn and senerek (red beans) to be harvested every three months.
"This is for my survival," said Siyamin, who hails from Temanggung, Central Java, one of Indonesia's tobacco cultivation hubs.
But he hasn't fully abandoned tobacco. He plans to grow it again after he harvests his corn, perhaps in April.
Like other tobacco farmers, Siyamin has struggled for the past two years.
"Extreme weather and complicated excise taxes aggravated by the COVID-19 pandemic have made local farmers helpless and powerless," he said.
Tobacco farmers, he noted, were at the bottom rung of the industry and had felt the pinch most acutely, while the middlemen who bought the harvest from farmers remained relatively unaffected. He accused the intermediate buyers of exacerbating the issue because farmers had no choice but to accept the prices they offered.

 

Yamin, as he is usually called, has been growing tobacco for decades on less than a hectare of farmland in Temanggung's Bulu subdistrict.

 

If he plants only tobacco, he harvests about 18 large bamboo baskets of dried leaves each season. Each basket contains between 40 and 50 kilograms of dried leaves.

 

He said the yield was consistent but the price of tobacco fluctuated erratically and farmers did not have the bargaining power to demand otherwise. His last harvest fetched much less than he had expected.

 

Under the current system, powerful tobacco graders sniff and examine farmers' tobacco samples and award the crop a grade from A to F, with F denoting the highest typical quality. Even more desirable leaves can get grades of G or H.

 

Yamin said grade A tobacco fetched Rp 17,000 (US$1.20) to Rp 20,000 per kilogram. The price increased incrementally by grade, and grade F tobacco could fetch as much as Rp 100,000 per kg.

 

Farmers, graders, middlemen and buyers have used the testing system for decades, but this year, Yamin said, the pricing had left him confused.
"My tobacco leaves were grade F, but the buyers paid me half of the value – equivalent to the grade C price […] at Rp 40,000 to Rp 50,000 per kg. That's not right," he said.

 

On top of that, the middlemen took commission fees out of Yamin's payment. Instead of making a profit from the harvest, he said, he had suffered a loss.

 

To grow tobacco, farmers have to shell out a large sum upfront. Yamin spent Rp 15 million to grow and process his most recent crop, excluding the wages he paid farmhands.

 

"It turned out that I only got Rp 10 million from the sale of my harvest."
Unaffected: Most middlemen who buy from tobacco farmers have remained relatively unaffected. (Project Multatuli/Courtesy of Project Multatuli)

 

"That's why I'm going to grow other crops, such as corn and vegetables, which don't require a lot of money [to grow]," he said.

 

The 49-year-old started seeing a decline in tobacco's glory in 2013, when big tobacco warehouses rejected his harvest. The middlemen told him the warehouses were full and that the crop was overstocked.

 

"They said they didn't have any money to buy local harvests. They also said they had imported tobacco from overseas, their warehouses were already full and so many other reasons. We didn't know the truth. What we knew was that our tobacco leaves had been rejected and the price had drastically dropped. That was all we knew," said Yamin.

 

The tobacco trading system in Indonesia does not allow farmers to sell directly to big tobacco companies such as HM Sampoerna, Gudang Garam or Djarum.

 

The product must instead pass through a long chain of middlemen, small and large-scale traders and tobacco graders before it arrives at the factory.

 

According to a study conducted by the Muhammadiyah Tobacco Control Center at Muhammadiyah University and CHED ITB AD on tobacco and agricultural regulations, the majority of farmers in Temanggung regency had complaints about the current tobacco trading mechanism.

 

Health vs. economics

 

As Yamin struggled with the sale of his crop, President Joko "Jokowi" Widodo's office in Jakarta was receiving letters and documents regarding revisions to Government Regulation (PP) No. 109/2012 on the restriction of addictive tobacco substances for health.

 

The letters came from representatives of both sides of a heated debate. Those who wanted more tobacco control sought revisions in favor of public health, such as higher excise taxes on cigarettes, and those who did not claim to speak on behalf of tobacco farmers like Yamin.

 

More tobacco control makes for lower cigarette sales, equaling more misery for farmers, they said.

 

The pro-tobacco control camp argued that the proposed revisions were for the protection of citizens – children and young adults in particular – from the hazardous health impacts of cigarettes and other tobacco products. It was pushing for wider-reaching revisions to the regulation, noting that since the issuance of PP No. 109/2012, smoking rates among children and young people had continued to increase.

 

The Health Ministry's Basic Health Survey (Riskesdas) paints a bleak picture. The periodic studies show a sharp increase in smoking rates in the 10- to 18-year-old age group, from 7.2 percent in 2013 to 8.8 percent in 2016 and to 9.1 percent in 2018.

 

In the 2020-2024 National Medium-Term Development Plan (RPJMN), the government set an ambitious target of reducing the smoking rate among young people from 9.1 percent in 2018 to 5.4 percent in 2019.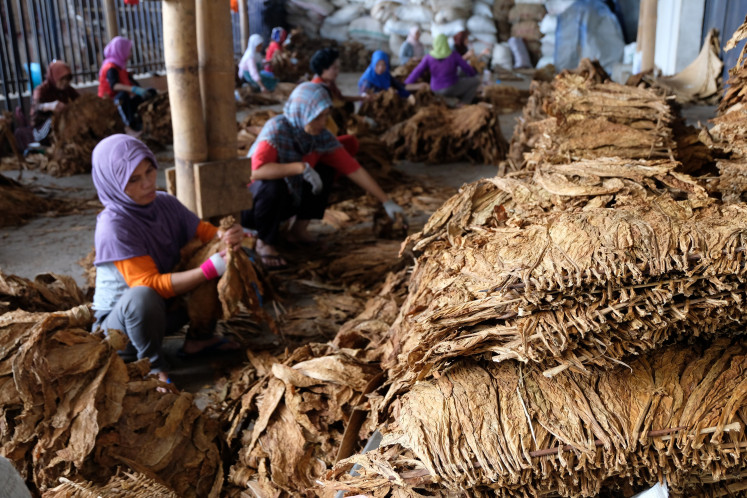 No choice: Tobacco farmers allege that intermediate buyers exacerbate their plight because farmers have no choice but to accept any price they offered. (Project Multatuli/Courtesy of Project Multatuli)

 

This is partly why so many civil society organizations (CSO) have demanded that the government take immediate and more aggressive action to speed up the revision of PP No. 109/2012.

 

Sumarjati Arjoso, the chair of the Association of Public Health Experts' Tobacco Control Support Center (TCSC IAKMI), part of the network of CSOs seeking to ensure stronger tobacco regulation, said further provisions should be added to PP No. 109/2012, such as an increase in the size of the health warning and cautionary photo on tobacco packaging and an outright ban on tobacco advertising.

 

"The prevailing PP No. 109/2012 has not touched on electronic cigarettes, or e-cigarettes. The advertising of tobacco-related products is still allowed at minimum exposure. We want it totally banned. The taxation of tobacco products also remains problematic," she said.

 

Sumarjati noted that Indonesia required only 40 percent of cigarette packaging to be taken up by a pictorial health warning (PWH), while the same products exported to neighboring countries had to abide by those countries' packaging regulations, in some cases up to 90 percent PWH coverage.

 

She said the government had a vision of producing an advanced next generation and that healthy young people who did not smoke cigarettes were imperative to this goal.

 

A 2017 survey by the TCSC IAKMI on the impact of PWHs found that the majority of respondents (80.9 percent of 5,349 people polled) supported an increase in the size of PWHs to 90 percent of cigarette packaging.

 

Respondents believed that a large PWH on cigarette packages would deter people from starting or continuing to smoke. PWHs usually include detailed photographs of the effects of smoking-related diseases, such as a tracheostomy hole or a pair of tar-coated lungs.

 

Sumarjati said that while the tobacco control group focused on health, the issue extended beyond that.

 

"Smoking is more than a health issue. It is also about the reduction in the quality of human resources," she said, noting that research showed that young smokers tended to have lower grades at school and this would impact the country's efforts to develop a more productive workforce.

 

She disputed the claim that stronger tobacco regulations were responsible for tobacco farmers' misery. She said the decline in tobacco farmers' revenue was the product of an unfair trading system that put the farmers at a disadvantage.

 

That tobacco farmers are rich is only a myth, she said, as many struggled to make ends meet.
"Many of them have moved away from tobacco or are alternating with other crops that are equally – or even more – profitable," said Sumarjati, who is a former House of Representatives lawmaker.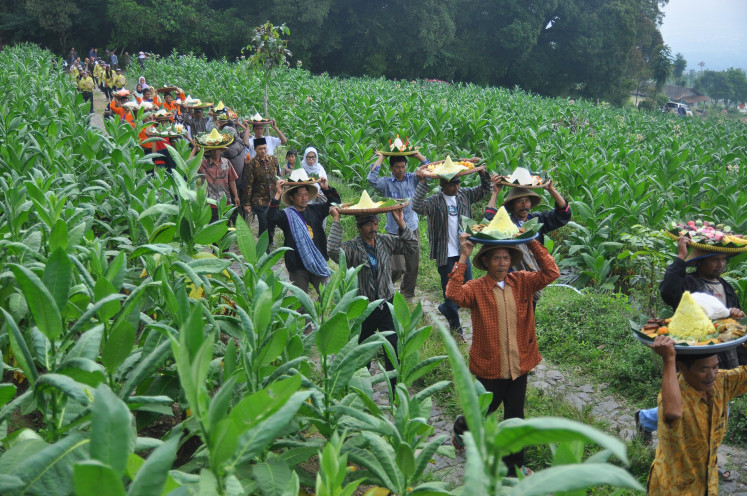 The last rung: Tobacco farmers often feel like they are at the bottom rung of the tobacco industry. (Project Multatuli/Courtesy of Project Multatuli)
A 2018 World Bank report found that tobacco farming families tended to spend more time and energy cultivating and processing tobacco. Former tobacco farmers who switched to other crops had more time to earn money from various other sources.

 

"In addition, tobacco farmers spend disproportionately large amounts of their household labor time cultivating tobacco leaves, meaning that their economically productive time is almost completely subsumed by tobacco growing. In contrast, their neighbors who are no longer growing tobacco are generally developing more robust and varied economic lives," the report said.

 

Sumarjati said the government had to stop importing food that could be grown in Indonesia so that tobacco farmers could switch to fresh produce.
"Ideally, the government should provide local farmers with information, technical support, training and monitoring, as well as subsidies and financial assistance for farmers to procure the seeds of vegetables and other horticultural crops," she added.

 

The government has issued some regulations to help tobacco farmers. The Agriculture Ministry's Seasonal Crops Directorate General is responsible for overseeing tobacco planting and production, as well as the welfare and improvement of tobacco farmers. Meanwhile, Law No. 39/2007 sets a legal framework for tobacco production. The law stipulates that 2 percent of the excise tax on tobacco products is to be used for the improvement of raw materials, the development of the tobacco industry, social development, the enforcement of excise regulations and the prevention of the production and sale of illicit tobacco products.

 

Indonesia, like other countries in Southeast Asia, has a national policy on crop diversification intended to phase out tobacco farming.

 

The directorate also assists farmers with the use of technology in the production and post-harvest handling of tobacco to increase production and quality.

 

But Yamin said that while those policies sounded good on paper, the reality was that farmers were often left to their own devices. He did not know why they did not get the help promised.

 

Yamin is a member of the National Board of the Indonesian Tobacco Farmers' Association (DPN APTI), which claims 3 million members.

 

The DPN APTI is among the organizations that have opposed the proposed revisions to PP 109/2012 in official letters to President Jokowi. The group says the changes will negatively impact the livelihoods of people working in the tobacco sector, particularly tobacco farmers.

 

Although Yamin is a member of the DPN APTI, he acknowledged he knew relatively little about the revision and the group's rejection of it. He had heard from the association that the current revision of PP No. 109/2012 could lead to the fall of the tobacco market.

 

A study conducted by the Nahdlatul Ulama (NU) Center for Human Resources Development (Lakesdam) in July of this year found that the prevailing PP No. 109/2012 had affected the welfare of tobacco farmers in Rembang, Central Java; Lombok, West Nusa Tenggara; and Madura, East Java. NU, one of the largest Muslim groups in Indonesia, said it had raised concerns about tobacco policy because many tobacco farmers were NU members.

The report found that middlemen passed the costs of tobacco restrictions and higher excise taxes onto farmers.

 

Hifdzil Alim, a consultant at Lakesdam PBNU, said the revisions to PP No. 109/2012 focused only on health issues, neglecting the welfare of tobacco farmers.

 

"There should be three government regulations, one providing legal protection for tobacco cultivation, one for farmers and one for health protection," he said.

 

"When the three regulations are simultaneously and harmoniously enacted, I think it will become a 'win-win' situation and a fair solution for all parties involved. So we can capture an 'aerial view' of these complex problems."

 

Conflicting ministry agendas

 

The revisions to PP No. 109/2012 have become the concern of several ministries, each with its own agenda and some in conflict with each other.

 

Issues of tobacco regulation involve at least the Agriculture Ministry, the Health Ministry, the Finance Ministry, the Trade Ministry and the Industry Ministry, and whenever the government raises issues of tobacco control, a classic tug-of-war between public health issues and the economy ensues.

 

In 2018, President Jokowi issued Presidential Decree No. 9/2018 on guidelines for draft government regulations, which contained a list of 43 regulations to be deliberated, including revisions to PP No. 109/2012.

 

Ministries held numerous meetings on the revisions, but the discussions went nowhere. In May, newly appointed Health Minister Budi Gunadi Sadikin sent a letter to President Jokowi asking for his approval to revise PP No. 109/2012.

 

The minister said the revision was urgently needed as the smoking rate among young people had increased significantly. The minister also noted the emergence of a wide variety of new addictive tobacco products such as e-cigarettes.

 

Failing to address the issue, the minister argued, would burden the national health insurance (JKN) program. Furthermore, it would affect the productivity of young smokers and result in a failure to achieve the 8.7 percent youth smoking rate target outlined in the 2020-2024 RPJM.

 

A study released by the Center for Indonesia's Strategic Development Initiatives (CISDI) in June of this year found that the Health Care and Social Security Agency (BPJS Kesehatan) would require at least Rp 10.5 trillion to cover the medical costs of smoking-related diseases for policyholders.

 

Widespread cigarette advertising, the aggressive promotion of tobacco products, cheap cigarettes (sometimes sold individually) and easy access have made these products highly accessible to all population groups – young and old alike.

 

Trikawan Jati Iswono, the head of fiscal development planning and asset control at the Cabinet Secretary's Economic Sector (Setkab), said in October that the executive did not have plans to revise PP No. 109/2012, arguing that it required "prudence and independence" to change the complex regulation.

 

He said the regulation should not only address health issues but also deal with the social, economic and cultural impacts on the tobacco industry, considering the strategic role of the tobacco industry in the country's economy.

 

A study by the Forum for Socio-Economic Studies (FOSES) published last year found that the share of the country's workers employed in the tobacco industry had declined from 7.6 percent in 2008 to 4.6 percent in 2017. According to Tobacco Atlas 2020 by TCSC-IAKMI, tobacco farmers remain only in Java and West Nusa Tenggara. Two provinces, Central Java and East Java, were found to have more than 100,000 families that depended on tobacco farming.

 

Tobacco 'deadlock'?

 

Agus Suprapto, the deputy minister for health quality improvement at the Office of the Coordinating Human Development and Culture Minister, said he fully realized that there would always be pros and cons to revising PP No. 109/2012.

 

Agus claimed the ministry had a clear stance on the regulation, that the revisions were urgently needed to protect young people from the hazardous effects of tobacco products.

 

But such a policy, he said, had to be followed by regulations that could protect tobacco farmers and improve tobacco trading schemes.

 

While acknowledging that tobacco farming could be negatively affected by stronger tobacco regulations, Agus claimed such policies would not necessarily impoverish farmers.

 

"Forgive my language; don't let these farmers be brainwashed," he said.

 

Agus said that as long as unfair tobacco markets existed, tobacco farmers would have a weak bargaining position against buyers and middlemen.

 

"Yesterday, I sent an official note to the coordinating human development and culture minister about [a proposal on farmer protection and the tobacco trading scheme] to be passed on to the agriculture minister, the industry minister and the trade minister," he said in late October.

 

"We should not allow farmers to be drawn into that similar pattern of protests without giving them a real solution."

 

Julius Ibrani, a legal expert from the Tobacco Control Coalition Network, said large tobacco companies were the ones that benefited from the snail's-pace interministerial effort.

 

Stalled progress on the revisions to PP No. 109/2012, he said, offered a broad range of advantages to the companies. The prevailing PP No. 109/2012 contained legal loopholes that could be used to the industry's advantage.

 

The Health Ministry, Julius added, had a weak bargaining position to push the revisions forward, and the Agriculture Ministry did little to protect farmers or to regularly monitor the floor prices of unprocessed tobacco.

 

Henry Najoan, the chair of the Association of Indonesian Cigarette Factories (GAPPRI), declined to comment on the issue.

 

"It is crystal clear that the big tobacco industry is gaining from this vague situation, with low excise taxes, complicated and multi-layered trading schemes and other factors. When taxes are increased and the trading scheme is simplified, the industry will just say that the policies hurt farmers' livelihoods. In reality, they don't really care about the fate of these farmers," Julius said.

 

In Temanggung, Yamin and other tobacco farmers are struggling to prepare for the next growing season. After harvesting tobacco leaves, farmers have to think hard about planting alternative crops.

 

"Life goes on, and we have to make do with the money we have," said Yamin. "What we need most are price certainty, good harvests and profitable farming. We will be grateful if the government can grant us farming insurance to cover possible harvest failures. That's all."

 

Indonesian Editor: Maria Hartiningsih

Translator: Rita Widiadana

 

This article first appeared in Project Multatuli in Indonesian. It was made possible by the Association of Indonesian Public Health Experts (IAKMI).