Harwell, Oxfordshire, 3rd April 2018 – Rezatec, the leading provider of geospatial data analytics to the Infrastructure, Forestry and Agribusiness sectors, has today relocated to a newly built global headquarters at Quad One on the Harwell Science and Innovation Campus in Oxfordshire, the UK's commercial space hub.
Following the successful completion of a recent equity funding which saw new investors Newable Private Investing join existing shareholders Run Capital Limited and Caphaven Partners in providing £2m of finance to the business and on the back of newly announced customer contract wins in North America and Asia-Pacific, Rezatec is significantly ramping up its operations to meet customer demand worldwide. Rezatec's new facility will accommodate newly expanded data science, research and development and sales teams to support existing customers and to expand the company's commercial reach worldwide.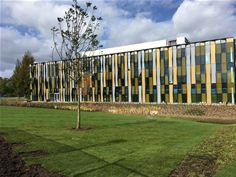 Quad One Building
"Rezatec is in fast growth mode as we expand the business internationally and our move to Quad One helps us accommodate our increasing number of employees as we deliver geospatial data analytics solutions to our global customer base. Having been a part of the Harwell Space Cluster for over 5 years now, we are naturally keen to strengthen our presence on campus to capitalize on the commercial advantage of being amongst 80 + other space related organisations," said CEO Patrick Newton.
Rezatec proprietary algorithms process data inputs from satellite, airborne and ground sensors to predict outcomes for key assets across a range of industry verticals. Users access Rezatec analytics through subscription to the Rezatec geospatial portal. Rezatec enables yield optimisation for commodity crops in the Agribusiness sector; identifies harvestable inventory in the Forestry sector; and asset risk and subsidence movements in the Infrastructure domain. Rezatec users include major utilities, agribusinesses, large forestry groups, consulting partners and governments worldwide.
–ends–
Editor's notes
About Rezatec
Rezatec™ helps businesses better manage their land-based assets by making use of the increasingly sophisticated but complex array of Earth Observation (EO) imagery and data available. We do this by aggregating large amounts of diverse data from satellites, airborne sensors and ground instruments, applying our proprietary algorithms and modelling to deliver high value, unique critical decision support for our customers. We deliver our data analytics through subscription-based access to our geospatial portal. For more information about Rezatec visit www.rezatec.com.
For editorial enquiries contact:
Philip Briscoe, Chief Operating Officer, Rezatec Limited
Tel: 01865 817500, Email: philip.briscoe@rezatec.com