A recent 12-month IMTA trial in Malta has shown that the sea cucumber species Holothuria poli can process organic waste from marine finfish and help diversify farm incomes. The team also found that the sea cucumbers posted better growth rates and relative weight gain when grown under the fish cages.
The full analysis, published in the journal Aquaculture, shows that H. poli is a viable alternative candidate to sea grasses or bivalves for open water IMTA systems in the Mediterranean. However, they stressed that additional work is needed to improve the sea cucumbers' survival rates. Over the course of the trial, the researchers reported mass mortality events and escapes for the sea cucumbers. This lowered their survival rate to between 23 percent and 33 percent, depending on the depth of the culture water.
Aquaculture is an increasingly important source of safe, nutritious, and sustainable seafood for people worldwide. Globally, aquaculture production must double by 2030 to keep pace with demand. These increases in demand for aquaculture products, food security considerations, and job creation have generated an increased need for skilled workers.
Discover how you can be part of this rapidly expanding industry.
It also appears that the researchers did not have full baseline data on the growth and survival rates of the sea cucumbers in the wild. Because of this, the team stressed that the IMTA system needed to be refined. Key data on optimal stocking densities, ideal production sites and seafloor conditions needs to be included before H. poli can be successfully integrated with the Mediterranean's seabass and sea bream industries.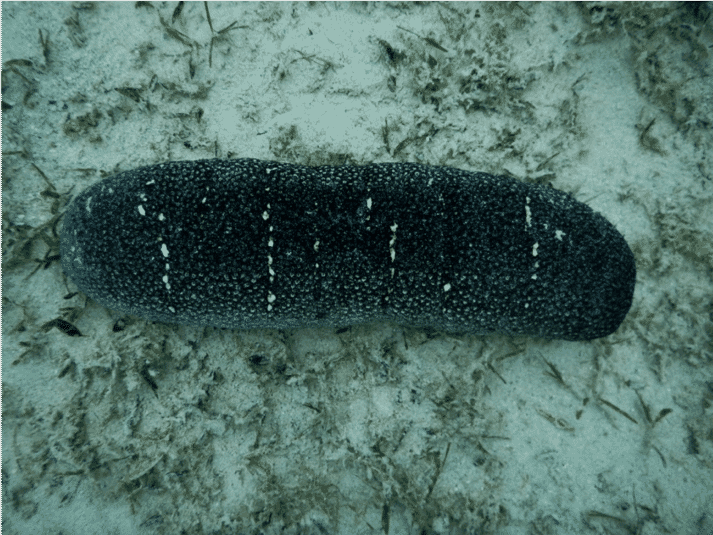 Why sea cucumbers are good IMTA candidates
IMTA systems re-create a balanced ecosystem by growing two or more species together during the culture process. This means that producers incorporate aquatic species at different trophic levels to offset farm wastes, improve water quality and diversify farm incomes. Macroalgae and bivalve molluscs are usually included since they require zero feed inputs and can filter wastes as they sequester carbon. They can also convert fish farm waste into marketable biomass, giving producers a way to maximise farm outputs while reducing the environmental impact of intensive farming.
IMTA practitioners are starting to include sea cucumbers as a zero-input species in their designs, capitalising on their ability to filter fish waste, consume uneaten aquafeed and remove pollutants from the environment. Different studies have found that sea cucumbers can feed selectively – targeting enriched wastes, while reworking and remediating thousands of kilograms of sediment each year.
In addition to their bioremediation capacity, sea cucumbers fetch a high market value. Different species have shown enormous potential in the culinary and pharmaceutical sectors – making them ideal aquaculture candidates.
For this trial, the researchers used Holothuria poli, a sea cucumber species that lives in soft marine sediments. In the wild, H. poli exhibits foraging behaviour and high digestive capacity, making it useful as a natural nutrient recycler. However, the researchers found that there wasn't much literature on its natural growth rate, mortality rate or population density. This means that H. poli could either be sensitive to high nutrient pollution or thrive in an open water IMTA system.
Integrated aquaculture in Malta
The 12-month trial was conducted at Malta Fish Farming Ltd – a company that produces gilthead sea bream, European sea bass and greater amberjack. The researchers opted to integrate sea cucumber cages to the existing fish pens at the farm site and compare results with two reference sites 800 m away from the farm.
The researchers acclimated wild-caught juvenile sea cucumbers to the local seawater. At the end of the acclimation period, the sea cucumbers had similar average weights, and none showed obvious signs of disease. 150 sea cucumbers were selected for the experiment and each cage was randomly stocked with 10 specimens.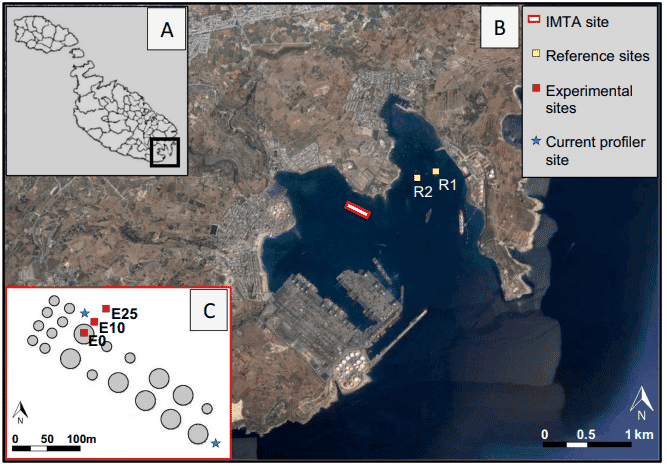 The researchers deployed three cylindrical sea cucumber cages directly under the fish pens. The cucumbers were grown at differing depths: 0 m (E0), 10 m (E10) and 25 m (E25). The same cage setup was used at the two reference sites (R1 and R2). At each location, sea cucumber cages were spaced out evenly every 2 m, weighted at either side of each cage and moored to the seafloor in parallel to the fish cages.
At two-month intervals, divers retrieved all the H. poli specimens from their cages and assessed their survival and performance. Researchers also monitored water quality, temperature, dissolved oxygen and pH levels at the IMTA and reference sites. Samples of seafloor sediment were also collected throughout the trial and analysed for total organic carbon and total nitrogen levels.
More fine-tuning required
The trial showed that with proper siting, sea cucumbers can survive and mature in an IMTA system and increase aquaculture production volumes. The researchers found a wide variation in relative weight gain and specific growth rates for the sea cucumbers at reference sites and at different depths in the IMTA system. In general, H. poli was able to grow better in locations near the fish farm than in other reference sites – suggesting that the sea cucumbers fed off waste released from aquaculture activities. However, the researchers were quick to add multiple caveats to this positive finding.

During the 12 months of the trial, the researchers reported some severe weather events at the farm site. They also recorded surprisingly low survival rates and multiple escapes during the culture period. This finding conflicted with the results seen in other field studies and could indicate that growing juvenile H. poli in open water could be more difficult than previously thought.
Within the first month of the study, the team recorded mass mortalities for sea cucumbers housed directly below the fish cages (zone E0). It appears that the environment below the cages had lower dissolved oxygen levels and high volumes of carbon and nitrogen-rich organic matter – this completely smothered the sea cucumbers.
Though the sea cucumbers fared better at different depths, the mortality rates were still high. At the first reference site (R1), all sea cucumbers were either dead or missing by the end of the study. The researchers theorised that competition over space and food between individual sea cucumbers contributed to the low survival rates. At the end of the trial, the final survival rate at zones E10 and E25 were 23 percent and 33 percent respectively. This is roughly similar to the 27 percent seen at the R2 reference site.
When consulting previous trials with H. poli, the researchers noted that the sea cucumbers showed better overall survivability in laboratory environments. This was seen even when water temperature and dissolved oxygen levels in the lab and farm sites were comparable. Based on this, culture conditions alone wouldn't explain the mass die-off. It's possible that stocking densities, seafloor conditions or sediments at this specific farm site played a role. It could also indicate that H. poli has a high natural mortality rate in the wild. Additional research needs to be conducted to confirm this.
Key conclusions
The researchers stressed that site layout is paramount for IMTA. Producers need to consider how waste is dispersed from the fish cage, water currents and other environmental conditions when creating these systems. Despite the biomass increase seen in this trial, the high mortality rates at the reference and IMTA sites are cause for concern – it suggests that culture conditions for the sea cucumbers need to be improved across the board.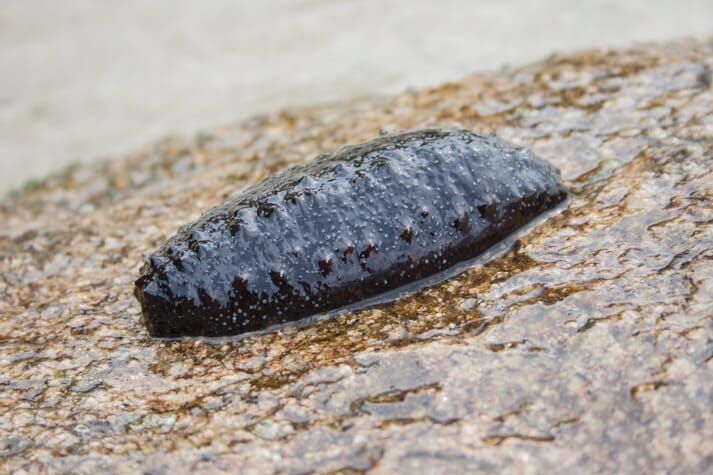 In their conclusion, the researchers stressed that they were missing key information on H. poli physiological and metabolic requirements. They also found that they lacked information on the specie's growth stages and ideal environmental conditions.
Because of these gaps in the literature, they suggested that future projects focus on identifying optimal stocking densities for H. poli within IMTA systems. Growing sea cucumbers at the ideal stocking density – even if it is lower – would likely boost their survival and growth performance. Refining the design and set-up of marine fish and sea cucumber IMTA would go a long way as well – and unlock its full potential as a sustainable aquaculture solution.