'The markets are there, commodities are good, but there are so many things holding them back from being able to take advantage of that'
Article content
An agriculture industry summit hosted by the Calgary Chamber of Commerce on Tuesday turned the spotlight on a looming crisis in global food security.
Advertisement 2
This advertisement has not loaded yet, but your article continues below.
Article content
After two years of the COVID-19 pandemic that severely disrupted supply chains, a rise in extreme weather around the world and an industry-wide labour shortage, the Russian invasion of Ukraine is now threatening the availability of two of the world's largest grain exporters.
The Cultivate: Agriculture Summit focused on the ability of Canadian producers to meet the global demand, and the challenges facing the industry.
Article content
"You have almost a perfect storm happening right now," said Conservative MP John Barlow, agriculture, agri-foods and food security critic. "The markets are there, commodities are good, but there are so many things holding them back from being able to take advantage of that."
He pointed to a number of challenges for local producers, including a carbon tax that is increasing the cost of operations, their ability to get inputs such as fertilizer, supply chain issues and a shortage of workers.
Advertisement 3
This advertisement has not loaded yet, but your article continues below.
Article content
Canadians are already seeing the effects, with higher prices and less selection at grocery stores.
Bob Lowe, the past president of the Canadian Cattlemen's Association and a panellist at the summit, also warned of drastic effects on the cattle industry coming out of 2021's drought, which forced producers to source feed to get them through the winter.
Article content
"Grain is going to be in limited supply," he said. "If we have a drought again next year and we couple that with what's going on in Ukraine and Russia, where that grain is coming from I don't know."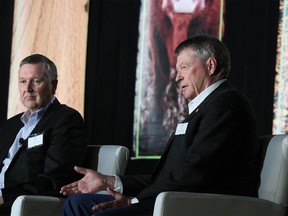 Much of the Canadian prairies saw improved precipitation over the winter, which should help, though southern Alberta may have a tough growing season ahead.
The summit heard that technology is playing an important role in mitigating the effects of snarled supply chains and extreme weather.
Advertisement 4
This advertisement has not loaded yet, but your article continues below.
Article content
Mark Thompson, executive vice-president and chief strategy and sustainability officer at Nutrien, said the company has a focus on gene editing seeds to make plants more resilient to stress or pests, and increase and enhance yields, to help farmers meet the growing demands locally and around the world.
"I think we've got a real opportunity here in Canada to use that as one of many technology tools to increase productivity over time," said Thompson.
One of the big challenges in meeting that demand is ensuring the availability of trained workers.
James Benkie, the dean of the Werklund School of Agriculture Technology at Olds College, said there is a shortage of more than 100,000 workers in the primary ag sector across Canada, but it grows to more than 300,000 in the agri-foods sector.
Advertisement 5
This advertisement has not loaded yet, but your article continues below.
Article content
One hurdle the industry faces is eliminating outdated stereotypes. The agriculture sector is thriving on cutting-edge technology in every facet, bringing together science, business and innovation.
"It is an opportunity for people from outside the industry to come and apply knowledge, come and apply experience to help solve some of the greatest challenges in producing food," he said.
The one-day summit at the Big Four Building on the Calgary Stampede grounds brought together 300 people from across all sectors, including business, finance, students and politics, among many more.
It was the first time in two years the chamber has hosted the event due to the pandemic.
Ruhee Ismail-Teja, director of policy and communications at the Calgary Chamber of Commerce, said it was important to stage the event this year and to build the connection between rural and urban Alberta to meet these bigger issues.
"We've seen agriculture become a lot more important and we've seen agri-food become even more important in the last little bit, particularly related to food security," she said. "That's risen to the forefront both through COVID-19 and empty shelves and people realizing food security did matter to their day-to-day lives, and more recently with the Russia-Ukraine conflict and realizing Canada has an important role and responsibility to ensure people around the world get fed."
jaldrich@postmedia.com
Twitter: @JoshAldrich03